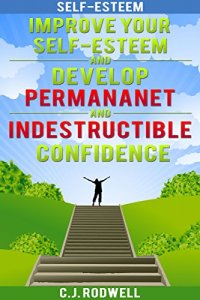 Self Esteem: Improve your Self-Esteem and Develop Permanent and Indestructible Confidence
******FREE BONUS INCLUDED RIGHT AFTER THE CONCLUSION******
Book normally priced at $5.99. Act now to take advantage of this limited time offer
Let me ask you: Do you ever struggle with how you view yourself? Do you ever feel like you're not good enough? Do you wish you were different? Are you constantly worrying about what others think about you? Do you find yourself thinking, "If I was better looking, thinner, smarter, or had a better career or relationship, then I'd be happy"?
If you answered "yes", to any of these, chances are you most likely have low self-esteem.
Having low self-esteem can negatively impact all aspects of your life, including your relationships, career and family, just to name a few. Low self-esteem can also hinder you from achieving your dream-goals and accomplishments, as well as happiness and inner-peace.
People with high self esteem tend to have much happier, and more successful lives than those with low self-esteem.
However, loving yourself and having high self-esteem can be very difficult! This is because of the fact that people with low self-esteem have their brains wired a certain way, making it difficult for them to just "snap out of it".
***This book is your ultimate high self-esteem guide, and filled with many useful tips and techniques that will allow you to let go of the negative thinking patterns that are associated with having low self-esteem, and learn how to have high self-esteem instead!***
Download your copy today for permanent, unbreakable self-love and indestructible high self-esteem and self-confidence!