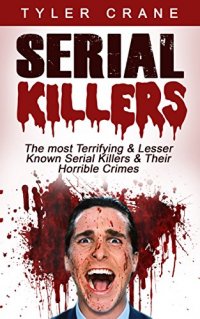 Free on 8th - 12th Nov 15



or borrow free on Kindle Unlimited.
No reviews yet.
Serial Killers: True Crime Stories Of The Most Terrifying Serial Killers: Serial Killers Biographies and Cases

Find out these Chilling Serial Killers Stories at a Special Price. Limited Time Offer!
This book contains the most amazing and terrifying serial killers cases in history. You will have the chance to unveil their mysteries and learn about their chilling cases one by one.
Some of these frightening murderers almost got away with their crimes and were caught just by accident, in most of the cases their victims didn't know that they were about to be killed till it was too late and some of these killers are considered to be genius because of their intelligence quotient.
… But what make these geniuses kill in the first place? What drives them to kill people? Is there a human way to stop this nonsense from happening again?

They all are good questions, but for now get ready to know about the most chilling serial murderers and their cases.
Here Is A Preview Of the Book…
"The Giggling Nanny" – Nancy Hazel"The Angel of Death" – Dr. Harold Frederick Shipman"The Milwaukee Cannibal" – Jeffrey Lionel Dahmer"The Godfather of Matamoros" – Adolfo Constanzo"The Slaughterhouse Lady" – Katherine Mary KnightMuch, Much more
Download your Copy Today and Get Instant Access to this special Offer!
Tags: serial killers, true crime, serial killers true crime, serial murder, serial killers wife, cold cases true crime, true murder stories, cannibal killers, murder mysteries, cold cases solved, crime stories