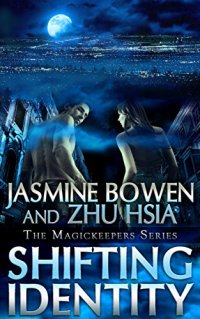 *** PARANORMAL ROMANCE BESTSELLER ***
Paranormal Romance: Book 1 by Jasmine Bowen & Zhu Hsia
Can she overcome all odds?
Fourteen year old Karina dares to defy her small town upbringing. With drive and ambition beyond her years, young Karina is bent on becoming the social advocate for witches and others with paranormal gifts. But, that's not all Karina longs for! With hopes of attending Tulane University, Karina aims to one day work at the UN and spark a change that will have a lasting impact in not only her small corner of the world, but on a global level. Fighting for human rights for witches and warlocks promises to change everything.
A chance encounter with a mysterious and troubled gambler leads to a friendship that blurs the lines between right and wrong. Their bond will be unbreakable if they can move past their differences and the boy Karina left behind doesn't complicate matters further.
This new world that Karina finds herself in will challenge her more than anything ever has before. As her new friend, Jules, struggles to control his powers, Karina is confronted with new and unfamiliar emotions. Desperate to find a balance between love, tolerance, and acceptance, Karina is torn between two worlds and two very different men in her life. With the witch population increasing at an incredible pace and what once was normal, quickly transforming into something else, no amount of magical powers or friends in high places will be able to help her. Hard lessons will have to be learned, if Karina can muster up the strength and the courage to forge on and move past the insurmountable obstacles that continue to thwart her efforts.
Does Karina have all the skills necessary to beat the odds and grasp that which she needs so desperately?
FOUR SERIES READING ORDER:
Prequel – Shifting Future (The MagicKeepers Series – Prequel) – Coming soon
Book 1 – Shifting Identity (The MagicKeepers Series #1)
Book 2 – Shifting Control (The MagicKeepers Series #2)
Book 3 – Shifting Triumph (The MagicKeepers Series #3)
OTHER BOOKS:
Obsession Claimed; A Paranormal Fantasy Romance Novel
Third Vampire Shadows; An Urban Paranormal Romance Novel
Poison's Heart; A Deadly Marriage: A Novella
The Silver Chest; (An Urban Paranormal Love Story of A Young Dentist): A Novella
Blood of Fallen Crowns: Blades of Vengeance: (A Historical Fantasy Fiction)
Scroll up and grab a copy today.