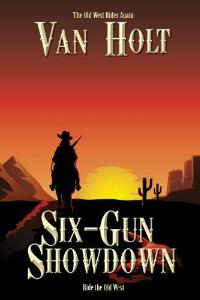 Pre-release pricing! Normally $7.99!
SIX-GUN SHOWDOWN
SOMEONE HAD KILLED SANDIE TURNER'S MOTHER. HANDSOME AND CHARMING CLAUDE BROWN HAD CONVINCED THE GIRL THAT THE KILLER WAS JIM DEXTER.
Sandie was watching him with terror in her eyes. "You just came from Colorado, didn't you? You cold have done it."

"Jesus Christ!" Dexter said, getting to his feet. He threw a dollar on the counter and headed for the door. A dollar was too much for the coffee but he did not wait for the change. He had a lying skunk to kill.

"Claude is the only one who knows where my mother is!" Sandie yelled after him. "I'll never forgive you if you kill him!"

"I'll never forgive myself if I don't kill him!" Dexter said and went on out.
WARNING: Reading a Van Holt western may make you want to get on a horse and hunt some bad guys down in the Old West. Of course, the easiest and most enjoyable way to do it is vicariously—by reading another Van Holt western.

Van Holt writes westerns the way they were meant to be written.
More action-packed gunfighting westerns by Van Holt:
A Few Dead Men

Blood in the Hills

Brandon's Law

Curly Bill and Ringo

Dead Man Riding

Dead Man's Trail

Death in Black Holsters

Dynamite Riders

Hellbound Express

Hunt the Killers Down

Maben

Rebel With a Gun

Riding for Revenge

Rubeck's Raiders

Shiloh Stark

Shoot to Kill

Six-Gun Solution

The Antrim Guns

The Bounty Hunters

The Bushwhackers

The Fortune Hunters

The Gundowners

The Gundown Trail

The Hellbound Man

The Last of the Fighting Farrells

The Long Trail

The Man Called Bowdry

The Return of Frank Graben

The Revenge of Tom Graben

The Stranger from Hell

The Vultures

Wild Country

Wild Desert Rose

Coming soon by Van Holt:

Buck Hayden, Mustanger

Six-Gun Showdown

The Hell Riders

Click BUY now. This special price may change at any time!