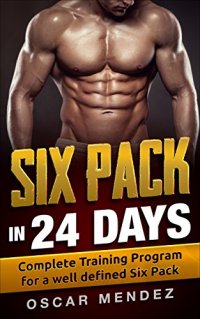 Your Dream Body Is Just 24 Days Away
Do you want to get shredded fast and have the body of a superhero in less than a month?
Don't you want to be envied by men and desired by women?
Stop making excuses and take control over your life!
With this amazing fitness guide you will learn everything there is to know to get the six pack of your dreams in no time.
This book has been carefully written to give you the efficiency of a badass personal trainer without wasting a fortune on an expensive gym membership.
With the Complete Training Program for a Well-Defined Six Pack, you will find detailed exercise charts and guides as well as all the info you need to better understand the science behind training so you can shed fat fast and build strong muscles.
It doesn't even matter if you are a beginner or not, you can still have amazing results even if you are currently sporting a beer belly.
And the best part?You don't even need to starve yourself in order to make a change!
These exercises have been carefully designed to give your metabolism a boost so you can burn calories faster and say goodbye to the excessive and stubborn fat.
With this workout guide, no abdominal muscle will remain untrained as it contains lower, upper and side ab exercising routines!
The unique combination of training styles will take advantage of your body's chemistry so you can create the right hormonal environment for shredded and well-defined abs.
So don't you think that it's time to get off the couch and stop complaining about your gut?
Take control over your life and get the body you deserve so you can be the best version of yourself!
Get The Six Pack In 24 Days Guide Now And Start Training!