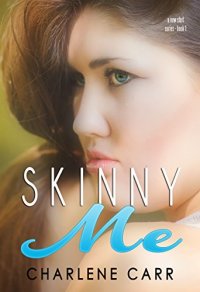 Also Available as:



Print Edition

"If you've ever felt ugly, fat, or just not enough for anyone to like you, then this should be in your reading list. Scratch that. At the top of your list." – Goodreads Reviewer
Whirling from a life that's crumbling around her, Jennifer Carpenter devotes herself to the one thing she can control: becoming the ideal version of herself–a thinner version–no matter the cost.
Will she break free of the pain and negativity that sends her in a downward spiral of self-hatred and poor choices, or continue to live a life of selfishness and misery?
Skinny Me is an in-depth look at the complicated layers of insecurity and depression that can stem from seeking self-worth and beauty in the numbers on a scale.
This novel is beautiful, harsh, and truthful in its characterization of a woman who is flawed, yet inspirational.
Jennifer isn't always nice, she isn't always likable, but she's honest.
Download Skinny Me and join Jennifer on her journey toward self-discovery today!
"The entire text is wholly cathartic for both the protagonist and the reader. This book is exceptionally and intuitively written. Raw, emotional, and witty too!" – Kristen, The Miscellaneous Mom Blog
"[Carr] doesn't make her lead character a caricature. She makes her human. She gives her emotion and intelligence and relationships." – Angie, NetGalley Reviewer
Skinny Me is Book One in the A New Start Series. Each book in the series is a complete story on its own, but the books are best read chronologically.
Other books in the A New Start Series:

Where There Is Life (Book 2)

By What We Love (Book 3)

Forever in My Heart (Book 4)

Whispers of Hope (Book 5)
If you're looking for a dark tale, at times upsetting but also full of hope and forgiveness, Beneath the Silence, Carr's first standalone novel, is a heartbreaking and intriguing drama that explores the struggle of a young girl battling the trials of adolescence while living with the consequences of domestic abuse in a small rural town.
Skinny Me Back Cover Description

Jennifer Carpenter dreams of being a different person – A person with confidence, a person with beauty, a person who weighs a heck of a lot less.
At twenty-seven, her world falls apart. She's out of work, her mother has died, her estranged brother is in a coma and, despite good qualifications, each and every job interview ends in another rejection. Marked by the teasing, taunts, and fat jokes that defined her childhood, Jennifer blames her current lack of success on her ever-growing waist band.
In need of a change, Jennifer puts her dream of 'skinny' above all else. Obsessed with this mission, she devotes her life to becoming the ideal version of herself even if it means becoming alienated from the only people who love her. Determined to lose the weight she believes is ruining her life, Jennifer finds herself in danger of losing so much more.