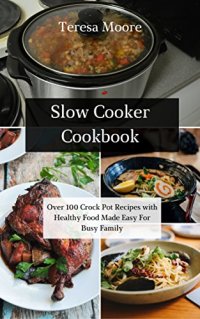 Slow Cooker Cookbook: Over 100 Crock Pot Recipes with Healthy Food Made Easy For Busy Family
Today only, get this Kindle book.
Read on your PC, Mac, smartphone, tablet or Kindle device.
Instant pot is a universal kitchen appliance combining the functions of a pressure cooker, steamers, cooks and bread makers. Thus, with its help you can cook for a couple, stew, fry, bake. Food, cooked in a multivariate, preserves nutrients and vitamins. This is provided by steam cooking technology (as in a steamer). The dish is prepared without adding oil and water – in its own juice, so the possibility of the appearance of carcinogens is excluded. Such food is suitable for dietary and for children's menus, and for healthy eating of the whole family.
Here Is A Preview Of What You'll Learn…
Stewed fish in sauce
Fish in a tomato marinade
Trout in milk
Pork stewed in sour cream
Rice porridge with mushrooms and vegetable
Apple pie with cinnamon and raisins
Don't delay any more seconds, scroll back up, DOWNLOAD your copy TODAY and start cooking today!