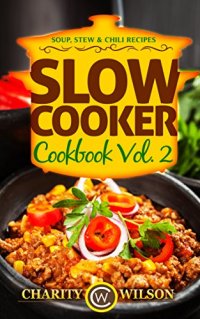 Free on 1st - 5th Dec 17


No reviews yet.
This book appears to be unavailable on Amazon.co.uk at the current time. If this is incorrect, please let us know here
Amazing Slow Cooker Soups, Stews and Chili Recipes That Free Up Your Time
Are you looking for some delicious food that warms the body and soul? Do you wish you could smell the aroma of an amazing meal, hot and ready for you as you walk into the room?
Well, unless you have hired help to do it for you, a slow cooker is exactly what you need. Oh and if you are wondering, yes, a crock-pot is the same thing. 
Why Use A Slow Cooker?
I fell in love with my slow cooker eons ago. It has made living a healthy lifestyle quick and easy for our busy family. Here are just some of the benefits to mastering the art of slow cooking:
Less energy used in comparison to a conventional ovenMakes weight loss easier by ensuring you have the healthy meals you need when you need themSaves you time and money (why eat out when your meal is ready at home)Tenderizes tougher and less expensive cuts of meat Better nutrient retention than other cooking methodsGreat for keeping the house cool while cooking on hot summer daysYou can set it and forget it
Your Slow Cooker Cookbook Series
Inside "Slow Cooker Cookbook Vol. 2: Soup, Stew & Chili Recipes" you will discover great recipes like:
Broccoli Bacon Cheddar Soup
Coconut Lentil Soup
Chicken Pot Pie Soup
Green Chile Enchilada Soup
Crab and Corn Chowder
If you want an easy way to make more slow cooker meals make sure not to miss out on the rest of the books in the series:
Slow Cooker Cookbook Vol. 1: Breakfast Recipes
Slow Cooker Cookbook Vol. 3: Delicious Dessert Recipes
Slow Cooker Cookbook Vol. 4 Family Friendly Freezer Meals
Slow Cooker Cookbook Vol. 5: 8 Hour Plus Meals That Are Ready When You Get Home
Just scroll up and hit the buy button to start enjoying your slow cooker recipes today!