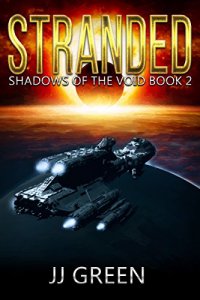 Bargain on 12th Feb 18



or borrow free on Kindle Unlimited.
No reviews yet.
Marooned on a strange planet, a starship crew battles hostile aliens living outside and among them.
The captain of the prospecting starship, the Galathea, is dead, and it's up to security chief Jas Harrington to take command. But the ship is stranded after crash-landing during a fight to defeat invading aliens–life forms who take on the identity of their victims.
The chances of rescue are next to nothing, the crew is mutinous, and Jas doesn't know who's an enemy and who's an ally.
With no way to leave the planet, the crew of the Galathea have a fight on their hands.
When the aliens make their move, only a miracle can prevent the humans from being stranded forever.
Stranded is Book Two in the fast-paced, action-packed Shadows of the Void space opera serial.
Download your copy today!
"Excellent continuation of this episodic series."
"…most definitely engrossing, pulling the reader into a gripping story…"
"Intriguing and exciting."
"Great continuity of the story and characters with twists and turns to keep you engaged."
"A quick read with lots of action and a good dose of mystery."
Sign up for a free copy of Starbound, the Shadows of the Void prequel, at JJ Green's reader group: http://jjgreenauthor.com/