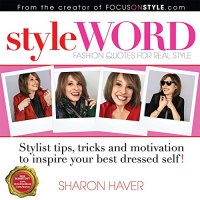 Free on 31st Jan 18 - 4th Feb 18



or borrow free on Kindle Unlimited.
No reviews yet.
StyleWORD: Fashion Quotes For Real Style is the ultimate cheat sheet to upgrade your look with beauty tips, style snippets, and fashion quotes for solid image advice to elevate your everyday style whether you need introductory stylist advice or a wardrobe refresher.
First impressions are made in under seven seconds. In the modern visual world, how you look is how you are perceived. Whether you want to succeed in business, light up a room, feel confident, or be age appropriate- your style speaks volumes.
Learn insider style secrets about:
* Beauty Inside + Out
* Style Motivation
* Forever Chic
* Fabulous Fit
* Living in Your Elegance
* Brand You
* Business Style + Success
Sharon Haver and her work have appeared in the media nearly 1,000 times during her three-decade career. She has 15 years of experience as a New York photography fashion stylist and founder the web site FocusOnStyle.com, where she has been sharing her style expert tips since 1999 so that women can look their best in a way that's relatable.
She left the allure of photo shoots to help others boost their self-confidence by dressing well, "My heart is with the everyday woman, like you and me."
She brought her behind the scenes insider tips to newspapers with her Focus on Style fashion advice column on the Scripps Howard News Service, and is the creator of Simply Amazing Headshots, C'est Chic Crash Course, and host of the 7 Days to Amazing Podcast.
As an internationally recognized style expert and female entrepreneur, Sharon's been featured in television, radio, print, and online media such as Real Simple magazine, CNN.com, Martha Stewart.com, Oprah.com, ELLE, The New York Times, The Los Angeles Times, Forbes.com and more.
"StyleWORD is your stylist express for high-impact style + quick fashion advice. It's a must-read for anyone who wants to elevate their image. Don't miss it!"