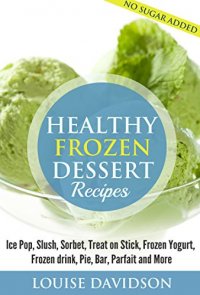 Frozen Desserts without the Guilt! Make treats without any sugar added like Ice Pops, Slushes, Sorbet, Treats on Sticks, Frozen Yogurt, Frozen drinks, Pies, Bars, Parfaits and More
Download FREE with Kindle Unlimited!
Once the warm weather hits, our taste buds seem to crave a different taste sensation. We desire freshness and sweetness that both satisfy and refresh. The only problem with traditional summer treats is that they tend to be a little too heavy on sugar and calories, while not fully utilizing the freshness of seasonal ingredients. When you decide to use what nature has to offer, you will find that there is less need for added sugars and artificial flavors. We have created this book to show you how to create tasty frozen summer treats that are sugar-free and for the most part, guilt free as well. You can have the creaminess of ice cream, the leisurely pleasure of an ice pop and frozen drinks that are unparalleled in flavor.
This book has been specially created for those like you, who desire to live and eat with as little added sugar and sweeteners as possible. Eliminating refined sugars from your diet has many benefits, including controlling diabetes, managing weight control and reducing your risk of very serious health conditions such as cardiac disease. Everything that we put in our bodies should be meant to nourish and protect it. However, this does not mean that we cannot take pleasure in the foods that we eat, especially the frozen sweet treats of summer.
Inside find:
oRefreshing granitas and ice recipes like the Mojito Icy Slush or the Citrus Berry Granita
oFrozen drink to die for like the frozen hot chocolate or the cinnamon coconut milkshakes
oTreats on a stick the kids and grown-ups will love like the Berry Melon Pops or the Frozen Vanilla Banana Swirl Bars
oHealthy and energizing frozen yogurt recipes like the Butterscotch Frozen Yogurt Buttons or Frozen Yogurt Fruit Bark
oCreative pies, bars and other treats like Sweet and Salty Margarita Frozen Yogurt Squares or Frozen Lemon Poppyseed Truffles.
Read on your Kindle, IPhone, IPad, Android Cellular phone, tablet, laptop or computer with Amazon's free Kindle reading App.
Scroll back up and click the BUY NOW button at the top right side of this page for an immediate download!