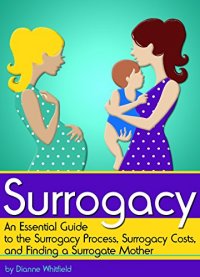 Free on 30th Jun 18 - 4th Jul 18


No reviews yet.
If you're considering having a child through surrogacy, then this book is for you!
Read on your PC, Mac, smart phone, tablet, or Kindle device.
Are you unable to have a baby through conventional means? Would you like to have a child but are hesitant to adopt because you want to have a biological connection to your baby? Then you might be interested in the wonderful process of surrogacy! A surrogate mother carries and delivers your baby for you, if ever you are unable to do it yourselves. Surrogacy is becoming a popular option for infertile, same-sex, and older couples who wish to have a child of their own and start a family. However, before deciding whether this is for you, you must first understand the steps, costs, and possible risks that come with it. The process of surrogacy can be a legal, financial, and emotional minefield for those unaware of what to expect. This book is therefore specifically designed to shed light on this process for anyone considering surrogacy to help you determine whether or not this process might be for you.
Here Is A Preview Of What You'll Learn…
Types of SurrogacyReasons Couples Opt for SurrogacyHow to Choose a Surrogate MotherCosts and Legal Requirements of SurrogacySteps Involved in the Surrogacy ProcessMuch, much more!Download your copy today!