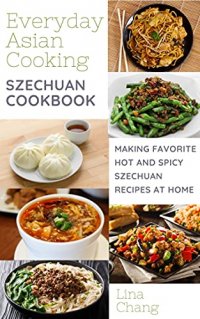 Bring the flavors of Szechuan Chinese food to your table with quick and easy recipes!
Download FREE with Kindle Unlimited!
Among all the Chinese cuisines, Szechuan, a.k.a as Sichuan, is the highly spiced one. You can find an intense flavor of garlic, pickled chili peppers, and the Szechuan peppercorns in most of its popular dishes. However, Szechuan cuisine is not all about being ?spicy and hot?; there are lots of sugary desserts and seasoned snacks that you can enjoy in this traditional Chinese cuisine as well.
Inside this illustrated cookbook, you'll discover:The difference between Szechuan cooking and other Chinese cuisinesKey ingredients for Szechuan cookingPopular Szechuan mealsSzechuan cooking methodsLots of Szechuan recipes from appetizers to dessertsExamples of recipes featured in this cookbook are:
APPETIZERS AND SNACKSChives and Egg DumplingsSteamed Bao BunsSzechuan Beef JerkySzechuan Spicy WontonsSOUPSHot and Sour SoupSzechuan Chicken Noodle SoupSzechuan Pork Ribs SoupCHICKEN AND DUCKKung Pao ChickenCashew ChickenChongqing ChickenTea Smoked DuckBEEF, PORK, AND OTHER MEATSzechuan BeefStir-Fried Pork with LeeksSzechuan Crispy Pork BellyTwice Cooked Pork
FISH AND SEAFOODSteamed Whole FishSzechuan ShrimpFried Fish with Spicy Black Bean SauceSeafood Hot PotVEGETARIANSzechuan Tofu and VeggiesVegetarian Mapo TofuRoasted Eggplants with GarlicSIDESStir-Fried Green BeansChinese Water Spinach Stir FryWood Ear Mushroom SaladNOODLES AND RICESzechuan Fried RiceDan Dan NoodlesSzechuan Noodles with Garlic Chili OilSzechuan Cold NoodlesDESSERTSMango PuddingSzechuan Pepper Ice CreamCoconut Milk PuddingRead on your favorite devices such as Kindle, iPhone, iPad, Android cellular phone, tablet, laptop, or computer with Amazon's free reading Kindle App.
Let?s get started! Scroll back up and click the BUY NOW button at the top right side of this page for an immediate download!