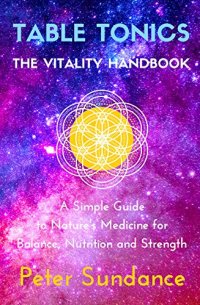 Free on 7th - 9th Sep 16



or borrow free on Kindle Unlimited.
No reviews yet.
This "How To" Guide gives straightforward instructions for personal transformation through the natural Medicine of Mother Nature. Learn the Art and Practice of Self-Compassion to bring you into the present moment. Each page shares a meditation that flows from the universal heart of the Earth, guiding us to live in harmony with our goals and intuition. These ideas share valuable insight into how we can all gain control of our ability to live productive, healthy and blissful lives.
This Essential Resource Guide of Botanical Medicine for Balance, Nutrition and Strength includes:
+ 14 Habits for Sustainable Living

+ 7 Ways to Balance Your Body with the the Antioxidant Power of the Earth

+ 50 Organic, Handcrafted Plant-Based Recipes to Simplify Your Food Choices

+ 10 Steps to Immunotherapy: Manage On-Going Conditions like Chronic Fatigue, Stiff Joints and Autoimmunity

+ How To Grow a Vitamin-Rich Garden (In Your Kitchen!) for One Dollar per Day
Steeped in the practical Wisdom of Yoga and the Science of the Human Body, Table Tonics bridges the philosophies of East and West to offer a unique view on how to improve peak performance with incredible enthusiasm.
This Handbook shares original interpretations of accessible methods from Ayurveda, Traditional Chinese Medicine, Paleolithic, Ketonic and Raw Vegetarian ideals distilled into ONE PROVERBIAL QUESTION: How can I love life right now?
This question contains the Seed of Vitality – the Source of Life – leading us on a guided tour of this world where we work and play together. Table Tonics is an excellent gift for Parents, Professionals and Athletes alike:
= Promotes Wellness and Tranquility

= Helps With Keeping A Healthy Weight

= Enhances Physical Endurance and Recovery

= Rehabilitates Injuries Effectively

= Sharpens Mental Acuity and Intelligence

= Improves Time Management

= Reduces Effects of Stress and Aging

= Connects Us To The Vibration of Nature
Congratulate yourself for making it this far!
You can happily keep Table Tonics close for reference and for pleasure, and share with loved ones in need. Remember to challenge yourself and dream big – the answers are always right in front of you.