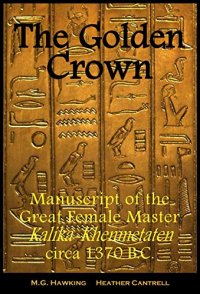 Free on 5th - 6th Sep 18


No reviews yet.
This book appears to be unavailable on Amazon.co.uk at the current time. If this is incorrect, please let us know here
This volume explores the life and profound knowledge of the Egyptian Master Kalika-Khenmetaten, who lived and authored her manuscript 'The Golden Crown' under the patronage of the great Kings of Upper and Lower Egypt, Amenhotep III and his successor Amenhotep IV (Akhenaten), over three-thousand-three-hundred years ago.
Kalika produced this highly esoteric manuscript for important reasons. It is to some extent a manual, a comprehensive guide to reaching higher awareness, written by a supreme master for masters, but not only for masters. Kalika intended that it could be utilized by persons of requisite ability to reach, through their own efforts, significantly expanded levels of awareness. It sets forth the fundamental recognitions and essential principles of consciousness necessary to attain extraordinary abilities and perceptive powers.
Author's Note: "I have endeavored in this book to accomplish the last part of an assignment which I rashly accepted many years ago, to compose an account of what we know of Kalika-Khenmetaten and her brilliant writings. I wish to tell as much as I can of the contributions her genius has made to the heritage of mankind, and to chronicle and contemplate, in their causes and results, the wisdom of her philosophy and the achievements of her art. I do not need to be told, in its very conception, how immodest this endeavor is, for many years of effort have made it clear that no one mind, and no single lifetime, can adequately encompass this task as the story of Kalika is one of the most epic in history, and her writings reveal the great knowledge and power of the masters of that mysterious land in those distant ages.
"Writing an account of Kalika-Khenmetaten shares the presumptuousness of every philosophical enterprise, for it offers the spectacle of a fragment attempting to expound the whole, striving to mark in mortal words immortal things. Like esoteric philosophy itself, such a venture is at its best brave, if not imprudent, yet it is my greatest hope, despite the many errors inevitable in this undertaking, that this book may be of profound value to those who the passion for knowledge has instilled the desire to see things whole, to pursue unity and the deepest understanding of consciousness and our true place and power in the Universe." –M.G. Hawking
Excerpt from 'The Golden Crown': 'Throughout our land, I see men plowing, fishing, toiling, disputing, cheating and being cheated, running after gold or pleasure; each surrounded by a cloud of hopes, fears, illusions, follies, and hates; believing that gods and fate spin the web of life for each human atom, and each in turn waiting to be drawn away by the messenger of death. Men do not realize their own divinity or true nature, yet it lives within them, ever acting on each experience of their life. Were they to recognize this, they would find that their True Self hovers ever about them, like a magnificent angel, holding in her outstretched hands a priceless Golden Crown. Were they to reach out and take that Golden Crown, it would make each man who does so a Prince, each woman a Princess.' —Kalika-Khenmetaten (circa 1368 BC)
The material in this book, owing to its nature, will if allowed come to possess a depth that will take on a life of its own. The knowledge of Kalika-Khenmetaten offers the illumination and guidance which, if studied with patience and fully integrated into your core belief system, can lay the foundation necessary to enable you to acquire abilities that most people would say are unbelievable or even impossible. A truly incomparable book for anyone on a spiritual path or seeking greatly expanded knowledge and personal power.
September 2016 Edition, 40,160 words, Kindle page count 216 (estimated, actual page count varies depending on the reading device used).