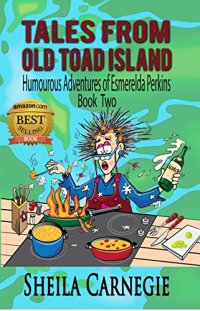 Anyone who lives in, or has visited the BC Gulf Islands, Canada, or perhaps their counterparts off the West Coast of the USA, will delight in Tales from Old Toad Island, Humourous Adventures of Esmerelda Perkins, Book Two, as told by Esmerelda and written by best-selling author Sheila Carnegie. This book surely speaks of the local colour and idiosyncracies of many of the islands in the Georgia Strait.
Esmerelda Perkins is an eccentric, aging and rather befuddled fictional character, who lives on Old Toad Island, an imaginary island near Green Frog Island, off the West Coast of British Columbia, Canada. Esmerelda gets herself into all sorts of predicaments and loves to share her thoughts about life and her hilarious stories of adventure and travel.

In this book, Tales From Old Toad Island, the second in the series, Esmerelda speaks about her impressions and experiences in moving to the island, and shares previously unspoken secrets and tales of resident characters and cultural adaptation. Stories about attempting to find her niche on 'Old Toad", as well as seeking a mate, for both herself and a friend are hilarious, as are her contemplations about aging and life in general. She includes thoughts about medical care, artistic endeavours, emergency rescue, gardening, sustainability, and ferry fiascos.

Many of these characters and stories are based on actual experiences, although Esmerelda may have taken liberties in its telling, as she frequently does.