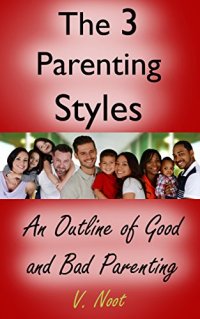 Free on 28th May 17


No reviews yet.
This book appears to be unavailable on Amazon.co.uk at the current time. If this is incorrect, please let us know here
Learn about the 3 different parenting styles and find out which one comes close to yours!

In this book you'll learn about the 3 different parenting styles: authoritative, authoritarian, and permissive. The last one is divided into 2 subc-categories. As you get acquainted with these different parenting styles, it might surprise you have many people (including you) can learn to upgrade their parenting skills a little:
Learn from the insights I give you in this book.
Get rid of excuses you tell yourself.
Learn about the funny soap analogy
Find effective ways help your children progress.
Be more motivated to become a better parent.
Reflect on your methods
Find out what is holding you back from balancing the demands and rules.
Be the best parent you can be
Keywords: Parenting styles, parents, good parents, good parenting, bad parents, bad parenting, authoritative parenting, authoritative parents, authoritative style, authoritarian style, authoritarian parents, authoritarian parenting, permissive parents, permissive parenting, permissive style, permissive parenting style, authoritative parenting style, authoritarian parenting style, neglectful parenting, neglectful parenting style, neglectful parents, neglectful style, nurturing children, nurturing kids, neglecting children, neglecting kids, indulging kids, indulging children, permissiveness, indulging parenting style, indulging style, indulging parenting, indulging parents, effective parenting, effective parents, discipline, disciplining children, disciplining kids, empowering kids, empowering children, encouraging kids, encouraging children, effective parenting skills, effective parenting style, the best parents, best parenting skills, best parenting style, balance in parenting, balancing parenting, raising children, raising kids, how to nurture children, how to nurture kids, how to raise children, how to raise kids