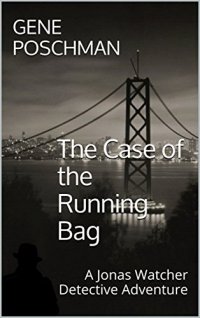 Free on 2nd - 4th Jan 22



or borrow free on Kindle Unlimited.
No reviews yet.
Also Available as:



Print Edition

An Accident or Attempted Murder?
It's winter in San Francisco and Jonas Watcher wakes up on a floating dock under a pier of a wharf next to the bay. He's beyond hangovers and the DTs and has no memory of how he ended up on the dock. As he climbs up a ladder, he is suddenly hit with a large object that forces him down, not onto the wooden dock but into the bay.
He struggles to stay alive using adrenalin and his reflexes. After he recovers, he finds he is the recipient of a substantial sum of money, a change of clothes, and a Colt forty-four. He finds a temporary place to sleep for the night, only to wake up entangled in a mystery with a femme fatale, a missing man, and a dead private detective.
The more he tries to extricate himself, the more entrenched he becomes; he uncovers blackmail, kidnapping, murder, and he must deal with the very rich. He has one dubious ally in the guise of an intelligent San Francisco police detective who has an agenda of his own.
It's the nineteen thirties and Jonas Watcher must solve The Case of the Running Bag if he wants to stay alive.
Q&A with the Author
Q – What's so special about the Jonas Watcher detective adventure series?
It's a combination of things. I wanted to create a new detective series from the 1930s. There are so many crime stories involving current and future technology, I wanted to develop a story where the private investigator had to live by his wits, and weaponry from a bygone era, not to mention a lack of technology.
Jonas Watcher is an everyman with a talent for crime solving. I wanted to create an action adventure hero that people could identify with. Having it set in 1930s San Francisco provides a little history and my own imagination and humor. Jonas starts out as a derelict down on his luck, gets thrown into a conspiracy of murder and kidnapping where he is a potential suspect, and he survives with his wits and a Colt forty-four that literally falls into his lap. Jonas usually works alone, but he gets some assistance from a group of people which he calls The Invisibles.
Every story is an autonomous detective adventure with some shared back stories. Some of the back stories will spread across multiple books, but are not required to understand the main story within each book. This makes the series unique in the genre.
Q – Is there an order the books should be read in?
Each book is a standalone story, but to get the full benefit of the cross-book back stories, there is an order to read the books in. I should note that if they are read out of order, there will be some aha moments that will occur, but will not spoil the stories in general.
The Jonas Watcher Dossier (prequel – a work in progress)
The Case of the Running Bag
The Case of the Bourbon Street Hustler
The Case of the Jade Dragon
The Case of the Looking Glass Mirror (a work in progress)
Q – Why should readers try the Jonas Watcher Detective Adventure series?
A -The Jonas Watcher series is about an earlier time when Jazz was cool, women were starting to step out, and technology was a whole lot simpler. The books are quick reads, with interesting tidbits of history, fascinating crimes, and a unique look at the society of the era. Each story is a fun ride with twists and turns that keep a reader entrenched in the main stories and intrigued with the back stories.
Readers who enjoy fast-paced action adventure with a touch of humor, and plot twists all the way to the end of the books, will enjoy this series.
Jonas Watcher Private Investigator Series eBook Categories:
Mystery Series
Crime Thrillers
Private Investigator Series
Private Detective Novels
Thrillers and Mysteries
Thriller Detective Series