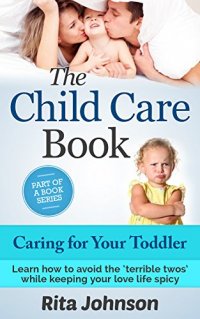 Free on 21st - 25th Apr 15



or borrow free on Kindle Unlimited.
No reviews yet.
Is that sweet little baby that you held in your arms turning into a toddler? And is the aforementioned darling starting to frustrate, exasperate, and drive you a little crazy? Don't worry you're not alone! You've entered the toddler years and while this time can test your patience to the max, it can also be a period of wonderful growth and development – for both your toddler and you. In The Child Care Book: Caring for Your Toddler you will find tips to help you meet your toddler's needs. You will find that if your toddler's needs are met, both of you will be a lot happier.
You will find tips to help with the following toddler challenges:
– How to avoid the 'terrible twos'

– What's a power struggle and how to avoid them

– Regaining your pre-pregnancy body

– Playing to learn

– Keeping your relationship with your partner strong

– And much more!
The book is divided into chapters by topic and each topic contains tips to help make your mothering life easier.
Ready to grab your copy of The Child Care Book: Caring for Your Toddler? Great! Simply scroll up to the top and click on the yellow 'buy now' button and you can have access to all these valuable tips in a matter of minutes.