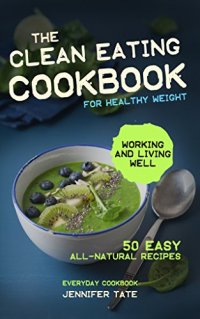 Free on 12th - 16th Oct 18



or borrow free on Kindle Unlimited.
No reviews yet.
Meet your new cookbook ? Clean Eating Cookbook for a Healthy Weightis an amazing collection of highly nutritious foods and recipes that opens you up to infinite possibilities to a healthy lifestyle.
Looking healthy and keeping fit doesn?t have to be complicated, here, you?ll discover 50 easy-to-follow recipes that will lead you through the basics of a life-changing hygienic eating diet. With the help of deep and thorough culinary studies and research, the author was careful to include necessary appetizers, snacks, mains, drinks, desserts and breakfast ideas with countless health benefits that will not leave you feeling deprived.
If you are seeking for a new secured clean eating habit, or you desire to lose weight, this is your best option, Clean Eating Cookbook for a Healthy Weightis a super easy, rich cookbook that tries to re-create all the conventional favourites in a nutrition, in a more simplified and modified form, which can serve as a great resource for anybody that seeks to live a vibrant, healthy life.
The Clean Eating Cookbook includes:
50 simple recipes use clean ingredients that deliver satisfying, healthy meals
Pictures for the most of the recipes
Nutrition information for those who watch their weight
The foods and recipes revealed in this book is basically everything you need to maximize your energy and improve your health. With the information listed here, you will discover splendid nutrition ideas that will keep your skin sparkling and your mind/body feeling good, you?ll see how easy, eating clean and losing weight can be, it really doesn?t matter whether you?re dairy-free, soy-free, Paleo, vegan and everything in between.
Opting for this book is a great choice because it?s unmistakably endowed with wonderful ingredients you and your body will love.