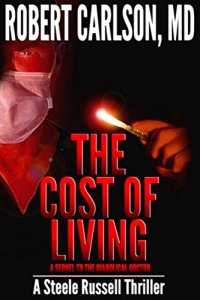 The Cost Of Living – A Sequel To The Diabolical Doctor:
A Steele Russell Thriller.
This is the sequel to the Diabolical Doctor. When life-giving medical science meets ruthless ambition in the cloning lab, who knows how many lives are at stake? The Cost of Living, the long-awaited sequel to The Diabolical Doctor, once again pits Steele Russell against the ruthless genius of Dr. Kentley Sinclair.
This thought-provoking thriller raises real-life questions about the growing field of stem cell research.
What is the cost of living?
How much would a powerful wealthy person pay to have another chance to live?
Is there a cost to the unsuspecting pregnant female?
Most Helpful Reader Reviews
"I was hooked from page one and I couldn't put it down" – Jenny Kegler
"I definitely recommend this book to every medical thrillers lovers." – Steve Smith
"I had great time while reading this sequel of The Diabolical Doctor and can certainly recommend it." – Andrii
"I found the plot very captivating and while reading the story I was all the time curious about what will happen next." – Cynthia Red
Of course, there is… and it's her life. Steele, a heart surgical resident, must face unfathomable odds against the morally bankrupt Sinclair – and needs all his prior training as an Army Ranger and the help of his talented friends to fight an evil that extends to the deepest core of humanity. Amid a growing body count, Steele struggles to save his friend, the integrity of his chosen profession, and thousands of innocents, now and yet to come. Will this be his last mission?
About the Author
Robert G. Carlson MD is a one of the leading cardiac-thoracic surgeons in the U.S. He participated in cardiovascular research at Harvard University, and published extensively in groundbreaking health topics during his medical school and surgical training. As an author, he has written the popular best-selling health book 'Siesta Beach HCG Diet / Lifestyle: Low Carbohydrate Diet with HCG. Bonus: Optimizing Weight Loss with Hormone Balance' which has helped readers restore youthful energy while losing weight with practical methods.
He has also the author of the popular fiction medical thrillers 'Bitter Revenge: When the Hunter Becomes the Hunted' offering his unique attention to medical detail, he entertains his readers with an authentic experience not elsewhere in the genre.
Scroll up and grab a copy TODAY.
Read "The Cost Of Living – A Sequel To The Diabolical Doctor: A Steele Russell Thriller." on your PC, Mac, smart phone, tablet or Kindle device.