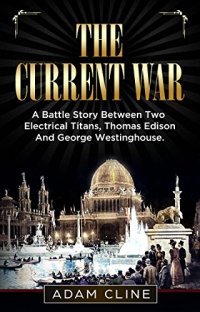 Free on 3rd - 7th Nov 17



or borrow free on Kindle Unlimited.
Top - Reviews - Update Details
The Current War: A Battle Story Between Two Electrical Titans, Thomas Edison And George Westinghouse
Download This Great Book Today! Available To Read On Your Computer, MAC, Smartphone, Kindle Reader, iPad, or Tablet!
In the late 1880s and early 1890s, the introduction of electricity brought with it two competing systems of electric power transmission. A powerful individual backed each system.
On one side was Thomas Edison, the savvy inventor and businessman. On the other side was inventor and industrialist George Westinghouse.
The two of them got embroiled in a nasty confrontation as each of them fought to ensure his system would become the industry standard.
In this book, Author Adam Cline gives a fascinating account of a commercial and technological feud that involved a public debate over the safety electricity, an aggressive and deceitful propaganda campaign and the introduction of the electric chair.
Read on to find out what it would take to win the war of currents.
Here Is A Preview Of What's Included…
Basic idea how alternating current and direct current worksBiography of Thomas Edison, George Westinghouse and Nikola Tesla Incidents before the current warCurrent war begins and how it gets muddyThe results of the current war and who wins and loosesAfter the current war…Much, Much More!
Get your copy today!