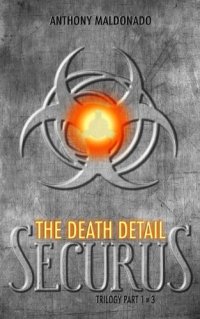 Leadership calls it a maintenance detail, but Kagen is about to learn why the workers know it as The Death Detail.
Driven underground to escape a biological weapon known as The Agent, the last known colony of people take refuge in a large subterranean facility called Securus. Kagen Meldon, a Healer by profession, finds his only mental escape in exploring The Caves, an adjoining underground system isolated from the poisonous atmosphere.
His life was routine until an unexpected discovery in The Caves leads to the murder of his close friend. The tragic event, combined with the ensuing Leadership cover-up, throws his life into chaos. Now, struggling through the relentless scrutiny of Leadership and battling a deadly viral outbreak, Kagen's pursuit of the truth leads him to risk his own life as well as the safety of everyone he loves. Can he survive The Death Detail long enough to reveal the sordid secret the conspirators are trying so vehemently to protect?