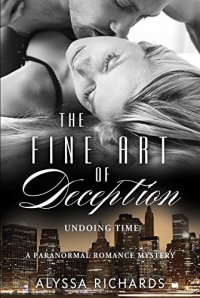 Art appraiser Adeline Montgomery just wants a normal life. One where she can ignore the vicious ghosts who follow her. One where she's free from her "gift" of touching an object and seeing the owner's deepest secrets. And one where she can fall in love without having all of the above get in the way.
But when tall, dark, and dangerous gallery owner Blake Greenwood enters her life, normal is the last thing she's feeling. The man has more secrets than the priceless art he sells, giving Adeline's quest for normal no chance. That, and he may just hold the key to uncovering the truth behind her father's unexplained disappearance.
Despite her paranormal gifts warning her to stay away, she feels an inexplicable, captivating fascination for him, something that goes deeper than attraction. There's something between them that's older than time, and if she can learn to give him her trust, it may just save her life.