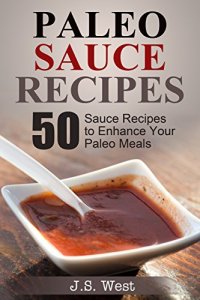 Free on 13th - 17th Mar 15


No reviews yet.
This book appears to be unavailable on Amazon.co.uk at the current time. If this is incorrect, please let us know here
After reading this book you will learn all about exciting new ways to dress up your meals
The Health and Wellness Benefits Will Be Incredible!
SPECIAL OFFER – OVER 70% DISCOUNT

LIMITED TIME ONLY $2.99! (Regularly priced: $6.99)
Are you looking for exciting new ways to dress up your paleo meals? Have you become a little bit bored with the paleo style of dieting, thinking that all the food is a little bit bland and lacking in flavor? If so, this book is for you! This book is packed full of 50 incredible paleo sauce and dip recipes that are sure to help you learn to love paleo dieting once again. And if you didn't even realize that paleo dieting could include sauces, then you are in for a real treat!

Paleo dieting doesn't have to be boring, and this book is here to prove that to you. When you're looking for something delicious to top your steak, chicken, fish, or vegetables with, just grab this book and find a recipe that really speaks to you. Chances are, most of the recipes are going to sound amazing to you—and that's because they are!

The first chapter of this book will give you a very brief overview of the paleo lifestyle and explain how sauces can help add some excitement to your paleo eating. This chapter should take care of any questions you have about how to best utilize these sauces in your meal planning.

The remaining chapters will include 50 recipes to help you build up a fantastic repertoire of paleo sauces and dips for any occasion. Some of these sauces can work as springboards for you to practice changing up the ingredients and creating your own unique concoctions, while others are perfect just the way they are. Don't be afraid to experiment and try new things based on the recipes you read in this book! Cooking is meant to be fun, and if your paleo diet is getting a little boring, then incorporating more unique sauces into your meals is just what you need to spice up your life once again!
This is A Preview Of What You'll Learn…
how sauces can still be paleohow sauces can help you enjoy your paleo diet more50 delicious paleo sauces and dip recipesand much, much more!
Would You Like To Know More?

Download your copy today!

Take action NOW and download "Paleo Sauce and Dip Recipes: 50 Sauce Recipes to Enhance Your Paleo Meals" for a limited time discount of only $2.99!
Available on PC, Mac, smart phone, tablet or Kindle device.

© 2014 All Rights Reserved
Tags: paleo kitchen, paleo, paleo weight loss, paleo diet, low carb, paleo low carb diet, paleo cookbook, paleo recipe book, paleo slow cooker, paleo diet cookbook, paleo low carb, paleo mediterranean recipes, paleo mediterranean cookbook, paleo for beginners, beginners paleo recipes, paleo style, paleo lifestyle, paleo approach, paleo living, paleo life, paleo, free kindle book paleo, paleo slow cooker, paleo diet for beginners, paleo diet free kindle books, paleo diet food list, paleo diet for athletes, paleo approach, paleo for weight loss, Paleo, Sauces, Sauce and Dip, Sauce Recipes, Low Carb, Wheat Belly, Whole Food