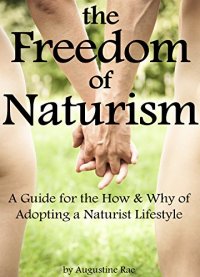 If you're considering adopting a naturist lifestyle, then this book is for you!
Read on your PC, Mac, smart phone, tablet, or Kindle device.
This book is designed to provide you with a complete introduction to the naturist lifestyle. I hope to challenge any misconceptions you may have about naturism and nudity by presenting an insider's point of view. As you read, you will learn how naturism is different from nudity, and why those who embrace the naturist lifestyle find it to be a freeing and empowering choice. Naturism is a culture that doesn't conform to modesty by any definition of the term. Because modesty is expressed in different ways – depending on a person's beliefs, influenced by diverse social norms that vary by country and culture – naturists simply assert that they would rather base their actions on principles they believe in instead. Most naturists contend that going against social dictates regarding fashion and clothing by choosing nudity is actually more in harmony with nature, and an environmentally-sound lifestyle. Whether you're considering adopting a naturist lifestyle, or you simply want to expand your horizons by learning more about it, I hope that you'll join me for this short exploratory read.
Here Is A Preview Of What You'll Learn…
The Difference Between Naturism and NudismCommon Misconceptions about NaturismHow a Naturist Lifestyle Affects Families and ChildrenNaturist Ideals and PrinciplesThe Proper Decorum Expected of NaturistsNaturist Groups and AssociationsMuch, much more!Download Your Copy Today!