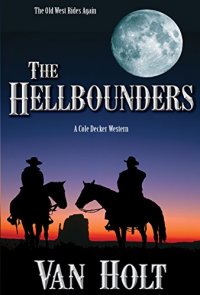 On sale for a limited time! Normally $6.99!

THE HELLBOUNDERS
Known as the Hellbounders during the Civil War, now in the 1870s the Conder gang had broken up and fallen on hard times. The old man, Ike Conder, and sons Hob and Pete were all threatening to kill each other.

Ike Conder got his first, one dark rainy night when he was trying to make ends meet the only way he knew how.

Ike cocked his gun and pointed it at Cindy Hayton's pretty blond head. "Girl, if you've got any money, you better tell me where it is."

Hob Conder's bearded face appeared at the small window. He smashed a pane of glass with the barrel of his gun and shot his old pa twice. Then he and another member of the gang went in and lugged Ike's carcass outside.

Cole Decker stepped around the trunk of the old cottonwood with a cocked gun in his hand and said, "You boys drop your guns and start riding."
More action-packed gunfighting westerns by Van Holt:
A Few Dead Men

Blood in the Hills

Brandon's Law

Buck Hayden, Mustanger

Curly Bill and Ringo

Dead Man Riding

Dead Man's Trail

Death in Black Holsters

Dynamite Riders

Hellbound Express

Hunt the Killers Down

Maben

Rebel With a Gun

Riding for Revenge

Rubeck's Raiders

Shiloh Stark

Shoot to Kill

Six-Gun Man

Six-Gun Serenade

Six-Gun Solution

Six-Gun Showdown

The Antrim Guns

The Bounty Hunters

The Bushwhackers

The Fortune Hunters

The Gundowners

The Gundown Trail

The Hellbounders

The Hellbound Man

The Hell Riders

The Last of the Fighting Farrells

The Long Trail

The Man Called Bowdry

The Return of Frank Graben

The Return of the Six-Gunner

The Revenge of Tom Graben

The Six-Gunner

The Stranger from Hell

The Vultures

Wild Country

Wild Desert Rose
Coming soon by Van Holt:

The Men of Missouri

Click BUY now. This special price may change at any time!