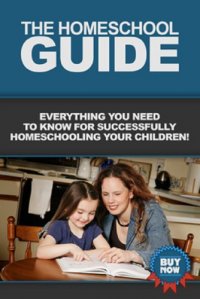 The Homeschool Guide
Today only, get this Amazon bestseller for just $2.99. Regularly priced

at $4.99. Read on your PC, Mac, smart phone, tablet or Kindle device.
Deciding to homeschool your child is a huge step to take. Homeschooling requires a lot of time, focus, planning, and effort on behalf of the parents, child, and whole family.

However, the positive benefits that homeschooling can provide, make all the sacrifice worthwhile.

This book will teach you what things you need to do and consider before beginning to teach your child. It will help you decide whether homeschooling is right for you, and take you through everything involved.

Inside, you will discover helpful tips that will assist in teaching your child successfully, setting up a home learning environment, and ensuring your child stays well socialized.
Here Is A Preview Of What You'll Learn…
Is homeschooling right for you?Where to get homeschool information in your areaHow to set homeschooling goalsHow to set up a study spaceHow to timetable your schoolingKeys to homeschooling successMuch, much more!

Download your copy today!
Take action today and download this book for a limited time discount of only

$2.99 before the price rises!
Tags: home schooling, home school, home school books, homeschool books, homeschooling books, homeschooling toddler, homeschooling children, home schooling, homeschooling, homeschool, school, learning, teaching