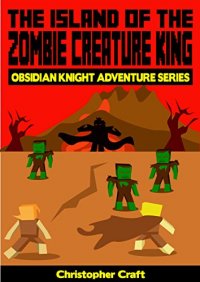 Here We Go Again!
What is Cor'vos getting himself into this time! Zombie Creatures .. Oh No!
Cor'Vos has a little time on his hands after getting back from his last adventure. Or does he? The King has other plans and Cor'Vos is about to hear it from the King himself!
"Join me, Cor'vos." Said the King.
Cor'Vos came forth and bowed before his King. "What do you need of me, sir?"

"We've been at peace for some time now. You've done a wonderful job protecting the kingdom."

Cor'Vos smiled, "Thank you sir."

"Please rise."

Cor'Vos stood. "What would you have me do now?"

The King sighed and withdrew a scroll from his robe. He handed it to Cor'Vos. He unrolled it. It was a map.

"It's come to my attention that a force of creatures have been spotted on an island far from here. It's unmapped as of now. I know you fancy yourself an explorer, I thought you might want to scout ahead."

Cor'Vos beamed with excitement. He relished the chance to discover a new land. "I would be more than happy to sir."

The King smiled. "Excellent. You'll be assigned a scout ship. Gather your things and leave in the morning."

Cor'Vos returned the smile. "Thank you, your majesty. I'll leave as soon as possible."
Yeah, we all know it's not going to be that easy ..is it?
Come join us on this little jaunt in the sea to a mysterious island with Cor'vos and a couple new characters that will keep you on the edge of your bed. Don't worry it's not that scary!
Just Scroll on Up and get the book now and Join The Adventure With Us!