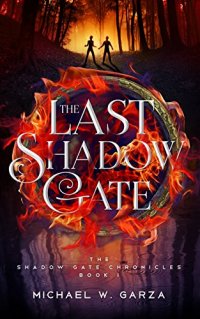 Bargain on 6th - 10th Nov 18



or borrow free on Kindle Unlimited.
No reviews yet.
Summer vacation was never supposed to be like this.
It was bad enough Naomi had to be shipped off to her dad's home for the summer and deal with her half-brother Gavin, but when the siblings are forced to spend their break with their great-grandmother in upstate New York, everything changes. An investigation into the strange disappearance of their great-grandfather forces them to retrace his footsteps. They discover a gateway between worlds and encounter extraordinary creatures in a land where the people are desperate to escape the coming of a shade lord. To survive their adventure, Naomi and Gavin must settle their differences and find the elusive shadow gate that will take them home again.
*Grab a copy today and begin your search for the Shadow Gate*
THE SHADOW GATE CHRONICLES:
Book 1: The Last Shadow Gate
Book 2: A Veil of Shadows
Book 3: The Shadow of War (Coming 2018)
Praise for THE LAST SHADOW GATE:
"If this book had been around when I was a kid, I'd have held it right up there with The Chronicles of Narnia and Lord of the Rings."
– Sunshine Somerville, Author of THE KOTA SERIES
"I found myself devouring it in one sitting, because I couldn't stop reading it." – Sami Airola, risingshadow.net
"You won't want to miss out on the thrilling yet perilous world beyond the shadow gates!"
– J. Cornell Michel, Author of JORDAN'S BRAINS
*If you love fast-paced, YA Fantasy, THE SHADOW GATE CHRONICLES, is the series for you. Continue the adventure with book II, A VEIL OF SHADOWS. Grab a copy here: https://www.amazon.com/gp/product/B075FWNXYS*