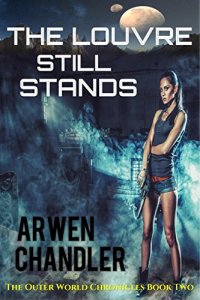 Bargain on 12th Jul 18



or borrow free on Kindle Unlimited.
No reviews yet.
Gwyn isn't afraid to get her hands dirty or going where she doesn't belong, even if the Militarian Authority is pursuing her. Regardless, of the price on her head, nothing is off limits for a smuggler with her own starship, and reliable intelligence bought for a steep price. Gwyn leads her comrades, ex-Militarian Adrik, and childhood friend, Rodrigo, in a high-stakes treasure hunt on a forbidden planet. If successful, she will be the only smuggler in the quadrant with access to the ancient treasures of the Louvre, and an endless supply of contraband. If she fails, the Militarian will send her and Adrik back to the prison planet they escaped from. Can Gwyn steal some of the greatest art in the galaxy from a planet locked down by the Militarian? Or, will she find herself locked away, while the priceless artifacts in the Louvre call her name?
The Louvre Still Stands is book two in the series, The Outer World Chronicles.