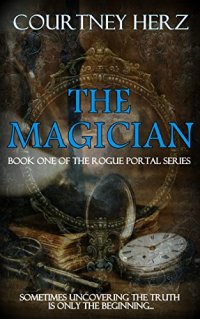 Free on 16th - 18th Aug 15


No reviews yet.
This book appears to be unavailable on Amazon.co.uk at the current time. If this is incorrect, please let us know here
What if everything you thought you knew was a lie? And what if you had to leave everything behind in order to save those you love most? In this epic fantasy adventure series, Connor must abandon his skepticism, believe in spirits, ghosts, dragons, sorcery, and magic, and battle his own inner demons in order to save himself, his loved ones, and the Universe as we know it.
More than just a fantasy series, The Rogue Portal delves into the human conscious, examining decision, how we make them, why we make them, and their consequences. It's full of heroes you want to scream at and villains you have compassion for, creatures that embody the best of humanity, and spirits who embody the worst. Through it all, the characters must walk the line between good and evil, just and unjust, revenge and justice, and face their own darkness in order to succeed.
Praise for "The Magician"
"Courtney masterfully builds a world of intrigue, magic and suspense, while spinning a fresh and inventive story rich with detail and tangible characters."

Shanan Winters, Editor
"Incredibly thought provoking…"

-Amazon AU review for "Balance", a prequel to "The Magician"
Where is the line between hero and villain?
How much darkness does it take to become evil, and is there a grey area?
What would you sacrifice for the sake of justice?
~~~~~~~~~~~~~~~~~~~~~~~~~~~~~~~~~~~~~~~~~~~~~~~~~~~~~~~~~~~~~~~~~~

Official Summary

~~~~~~~~~~~~~~~~~~~~~~~~~~~~~~~~~~~~~~~~~~~~~~~~~~~~~~~~~~~~~~~~~~

Connor's life has never been easy. After his father committed suicide when he was just a few months old, he was forced to grow up under the shadow of questions, darkness, and the bitterness of his depression-plagued mother.
But now he's off to college, and when he takes a momento from his father's life with him – a pocket watch he found in the attic – he expects it will be only that: a momento. But soon the pocket watch begins to act in strange ways, and he meets three new friends who all have oddly similar backgrounds to his own.
When he begins to have strange dreams that blur the lines between reality and imagination, this world and those beyond it, and the shape of time itself, he discovers that the pocket watch is far more than a trinket. That there was more to his father's death than even his father knew. And that he and his newfound companions will be forced to play integral roles in a cosmic battle between truth and power; justice and revenge; good and evil.
Follow Connor on his journey into the Void, a world between worlds where time as we know it ceases to exist, nothing is as it seems, and the fate of our universe hangs in the balance.
Sometimes the answers are more painful than the questions. Sometimes what you believe is only a variation of what is real. And sometimes uncovering the truth is only the beginning…