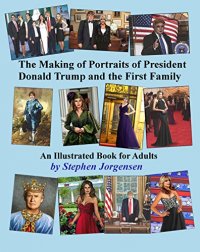 This Kindle book is an illustrated book, it is not a coloring book or a coloring app, it is not capable of being colored in your Kindle device. It is not interactive. As such, it is only a PREVIEW of a previously published paper-back book, which is also available on Amazon. Buy it there, but learn about the making of that book here in this Kindle version. This is a preview – it will show you the how and why of the Presidential Portraits that are available in the physical copy of the book. It can be guide or how-to book.This is a Kindle illustrated book showing the process of making Portraits of President Donald Trump and the First Family and it is a good way to get insight into the coloring pages that are depicted in the printed coloring book because here we show the original color pictures of each image and then the process of outlining the color,and then the resulting B&W coloring page.The illustrator describes where he gets his original art work, and the software he uses to make the B&W versions.
Donald Trump is now the 45th president of the United States. In the Adult coloring book we are describing in this book we present "official" portraits of President Trump and the first family. It will be fun to get to know him and his family as you color in the "posed" portraits. A lot of evening gown portraits of the many attractive women in his life are included here. Also we include "imagined" images of Pres. Trump as he might like to think of himself, perhaps as Father of the Country, or a great military leader, or as royalty. The president and the first family is as close to royalty as we get here in America. Anyway, it will be fun coloring in these attractive images.The great thing about this illustrated book is it brings our new First Family to life. It is a way to get to know Trump and his family. Plus it is fun to color the attractive people with Trump. The portrait art is all by the artist Stephen E. Jorgensen painted from publicly available pictures. Mr. Jorgensen specializes in Hawaiian art and has over 220 other original Hawaiian paintings painted in Hawaii and sold there and on the internet. Most of his art work is large Triptych, (3 panel), wall hangings. But he can also do people, as illustrated here, there are 26 portraits presented in this book which is about the coloring book that features those 26 pictures. Of course, we recommend you buy the paperback version so you can have the whole book of coloring pages right there with you. Learn how a coloring book is made.
I was stunned when Donald trump won the election, but I think all Americans should pull together now, and lend their support to the new leaders and give them a chance, as long as they don't go against our constitution. I know many people don't like Trump because he is often a bombastic, egotistic bully, but they should give him a chance. It's OK to call him on his many faults, but just remember, most of our leaders were egotists and often not very likable in their own way. It is the nature of politics. Nice guys don't keep pushing to the top of the political world. So in the coloring book version I have included hidden symbols or "Easter Eggs" in each picture. These remind us of Trump and his family member's short- comings. Get that book at Amazon and have fun coloring and searching out the Easter eggs and their meanings. This illustrated book gives hints to
those hidden symbols which are in the coloring book.