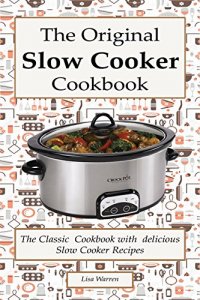 Free on 21st Oct 17


No reviews yet.
Also Available as:
Print Edition

This book appears to be unavailable on Amazon.co.uk at the current time. If this is incorrect, please let us know here
The Original Slow Cooker Cookbook will provide you with delicious cooking solutions every single day. If you don't have a lot of time to spend in the kitchen, worried about cooking a bad meal, or are not well-versed with cooking, these recipes are for you!
Crock Pot Dump and Go Recipes will provide you with delicious cooking solutions every single day.
Extremely Short Prep Times- Mae sure that you note the prep time mentioned at the head of every single recipe.
Novice Book- Every single step that you need to take to prepare each of the meal in this book is very easily explained.
Family Recipes- The recipes have not come from famous chefs but from home cooks.
Only use the ingredients that you already have- You can choose a recipe that suits your taste buds or of those whom you want to please.
Grandma TIPS- You will also find many useful TIPS throughout this cookbook.
Less Cook and More Talk-
Delicious Recipes…………….
Main Dishes – Beef
Oxtails Braised With Gigantes Beans
Roasted Garlic Shredded Beef
Home Style Beef Stew
German Dinner
Osso Buco With Apples And Cream
Caramelized Onion Beef Pot Roast
Southern Barbeque Pulled Beef Sandwiches
Magic Meat Loaf
Osso Buco With Mushrooms And Black Olives
Italian Beef Spaghetti Sauce
Dilly Round Steak
Slow-Cooked Short Ribs
Best-Ever Lamb Navarin
Root Vegetable Beef Stew
Slow Cooker Short Ribs
Main Dishes – Chicken and Turkey
Brad's Slow Cooker Chicken Parmesan
Delicious Chicken
Capon Roasted Over Sauerkraut And Potatoes
Cider Braised Chicken
Slow Cooker Turkey Breast With Gravy
Savory Slow Cooker Chicken
Chicken Thighs With Celery Root And Sour Cream
Pulled Chicken
Easy Slow Cooker Chicken and Dumplings
Mix-It-and-Run Chicken
Roast Chicken With Parsnips And Tomatoes
Main Dishes – Pork
Sweet and Spicy Pulled Pork
Cold Pork In Garlic Sauce
Big Ray's "Only Slow Cooker Pulled Pork You Will Ever Need"
Cranberry Orange Pork Roast
Black Bean Pork Stew
Chinatown Barbecue Pork
Slow Cooker Southern Lima Beans and Ham
Three-Ingredient Sauerkraut Meal
Red Salsa Pork Tenderloin
Pulled Pork Loin And Vegetables
Soups, Stews and Stocks
Slow Cooker Caribou Stew
Veggie Stew
Duck Soup With Ginger And Scallions
Spicy Chili Soup with Tomatillos
Slow Cooker Oxtail Soup
Texican Chili
Fish And Rice Soup With Tarragon And Lemon
Beef Mushroom Soup
Slow Cooker Sweet Potato Soup
Navy Bean Vegetable Soup
Pork Soup With Red Peppers And Hominy
Hungarian Goulash Soup
Easy Slow Cooker Chili
Potato Chowder
Red Snapper Chowder With Zucchini And Black Olives
Shredded Beef Soup
Cucumber Medley Soup
Vegetables
Slow Cooker German Potato Salad
Savory Slow Cooker Squash and Apple Dish
Slow Cooker Chinese Carrots
Delightful Indian Coconut Vegetarian Curry in the Slow Cooker
Slow Cooked Collard Greens
Slow Cooker Stuffed Zucchini
Slow Cooker Creamed Corn
Vegetarian Cassoulet
Slow Cooker Pumpkin Steel Cut Oats
Slow Cooker Root Vegetable Tagine
Appetizers and Snacks
Cider Cheese Fondue-for a Buffet Table
Spiced Buffalo Wings
Salami and Cheese Dip
Famous Meatballs
Butterscotch Dip
Asian Marinated Mushrooms
Cheesy Roasted Pepper Dip
Awesome Slow Cooker Buffalo Wings
Butterscotch Haystacks
and More…….