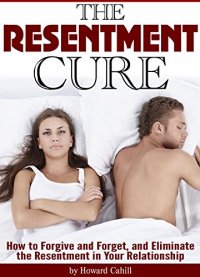 If you are committed to dramatically improving your relationship by letting go of all resentment, then this book is for you!
Today only, get this incredibly useful guide for only $2.99. Regularly priced at $4.99. Read on your PC, Mac, smart phone, tablet or Kindle device.
Letting go of resentment in a relationship is not easy, but it is an attainable goal for a person who is invested and determined to improve their relationship and the quality of their own life. Whether it was on your end or your partner's, the common denominator of resentment is that, most likely neither of you addressed it. In fact, either if not both of you may perhaps still be unaware of it. Resentment is something that can consume you entirely, and your relationship by extension, until there is nothing left. I am here to tell you that it's not too late and that I have the Resentment Cure that you're looking for. Your relationship can be saved and you are, indeed, capable of forgiving, forgetting, and moving forward in your life. Yet, only after cleansing your heart and mind of any resentful feelings you might be holding on to. This ebook is designed to help you establish what the underlying issues are, and then take you through the steps of communication, expression, resolution, letting go of anger, forgiveness, and moving forward into a relationship that's more valuable and stronger than ever before. If you're open to improvement, receptive to change, and of course have the willingness to follow the necessary steps toward forgiveness, then let's get started!
Here Is A Preview Of What You'll Learn…
Introspection – Considering Whether Your Resentment Is JustifiedCommunicating with Your Partner about the ResentmentExpression Instead of SuppressionLetting It Go and Moving OnFocusing On the PositiveMuch, much more!Download your copy today!
Tags: resentment and anger, resentment, resentful, how to forgive, how to forgive and forget, resentment in marriage, resentment in relationships, anger and resentment