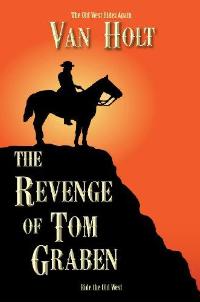 Free on 28th Feb 14 - 2nd Mar 14


No reviews yet.
Special pre-release pricing! Normally $7.99.
THE REVENGE OF TOM GRABEN
Frank Graben rode away from Crazy Cora's shack with his back full of buckshot, clinging to the saddle and clinging to life. He soon found the trail blocked by four local outlaws who had followed him from a place called Turley's, where he had been forced to kill a mean young punk who tried to take his horse. He was too weak from his terrible wound and from loss of blood to pull his gun from the holster when the four outlaws started shooting at him.
Then Tom Graben, the tough older brother Frank hadn't seen in ten years, appeared in the rocks above the trail and started shooting.
WARNING: Reading a Van Holt western may make you want to get on a horse and hunt some bad guys down in the Old West. Of course, the easiest and most enjoyable way to do it is vicariously—by reading another Van Holt western.
Van Holt writes westerns the way they were meant to be written.
More action-packed gunfighting westerns by Van Holt:
A Few Dead Men

Blood in the Hills

Brandon's Law

Curly Bill and Ringo

Dead Man Riding

Dead Man's Trail

Death in Black Holsters

Dynamite Riders

Hellbound Express

Hunt the Killers Down

Maben

Rebel With a Gun

Riding for Revenge

Rubeck's Raiders

Shiloh Stark

Shoot to Kill

Six-Gun Solution

The Antrim Guns

The Bounty Hunters

The Bushwhackers

The Fortune Hunters

The Gundowners

The Gundown Trail

The Hellbound Man

The Last of the Fighting Farrells

The Long Trail

The Man Called Bowdry

The Return of Frank Graben

The Revenge of Tom Graben

The Stranger from Hell

The Vultures

Wild Country

Wild Desert Rose

Coming soon by Van Holt:

Buck Hayden, Mustanger

Six-Gun Showdown

The Hell Riders

Click BUY now. This special price may change at any time!