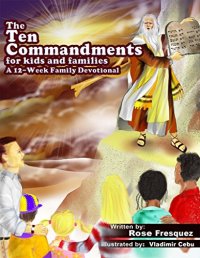 The Ten Commandments for kids!

The Ten Commandments are the most famous set of laws in human history. They have guided the laws of governments and the lives of people for thousands of years.

Children Kindergarten to 6th grade and older will appreciate the positive, real world and biblical examples with vibrant full-color expressions that bring the stories to life.

Each Commandment is explained using a detailed meaning and an illustrated bible story to teach how God deals with mercy, compassion and righteousness when we sin.
Through fun family activity ideas as well as illustrations, you and your children can strengthen your beliefs in God as you learn why you believe in God and who God really is through His law.

Children will also draw closer to God and develop good relationships with family and friends as they learn God's Top Ten rules." They'll dig a little deeper to discover why God made these rules and how they can follow and apply them best.

This 12-week family devotional includes:
How and why we got the Ten Commandments.

How to apply the Ten Commandments in daily life using fun activities.

Fun activities at the end of each session, with bible verses to support each law.

Family discussion questions for an opportunity for adults to talk about the Love of God and His Holy standard.

Understand who God is through His law and why we need a savior.

Prayers at the end of every devotion.

Easy way to learn the ten commandments with hand signs.

A perfect way for parents, grandparents, and caregivers to introduce children to the Ten Commandments.