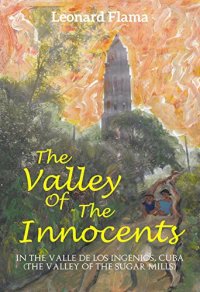 It is not very often that a chance encounter could seal a person's friendship or association for many years or for the rest of his life. Meeting two little girls, aged five and seven, and their grandmother, in such desolate circumstances in the Valle de los Ingenios (Cuba) in 2006 sealed that relationship for the author.
Since it was his first encounter with the people of the Valle, he had to learn more and, as a result of that knowledge, he was prompted to express the emotions of his encounter, as he imagined them to be, in this story harnessing the extra-sensory perception of two young girls in 'THE VALLEY OF THE INNOCENTS'.
Although the story at the heart of this book is fictitious, the characters are almost entirely based on real people whom the author got to know or observe in the course of his visits to the Valle, and the narrative is placed in the context of Cuban current affairs existing at the time.