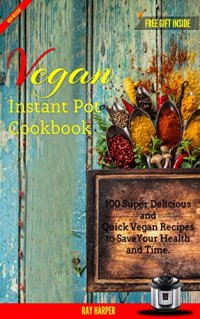 Bargain on 12th - 16th Mar 17



or borrow free on Kindle Unlimited.
No reviews yet.
Vegan Instant Pot Cookbook
Are you concerned about your health?Do you believe that eating non-vegetarian food or animal products is not only unhealthy but also cruel to the animals?Are you in search of delicious vegan food recipes full of nutritious elements and easy to make?
If the answers to the above questions are yes, then this is the perfect book for you with its wide range of vegan recipes for preparing food which is healthy, nutritious, and delicious.
100 Super Delicious and Quick Vegan Recipes to Save Your Health and Time
Vegan Instant Pot Cookbook is a comprehensive guide that has been prepared after years of research. Each recipe is a product of intense hard work and efficient combinations of the right ingredients.
The book focuses not only on vegan food recipes but on the entire process that consists of finding the right ingredients, how to use the instant pot, and a complete vegan diet plan.
Time-saving and healthy recipesEntire process of preparing vegan food explained in easy to follow stepsEasy to find ingredientsAn instruction manual explaining the functionality of the instant potGuidelines for the maintenance of the instant pot
The book contains a detailed nutrition table that helps you find the right vegan diet plan. It ensures that while you opt for vegan food moving away from animal products, you don?t lose out on your nutrition. There?s also a calorie table which will ensure that you would consume the right amount of calories, thereby avoiding undereating or overeating.
Vegan Instant Pot Cookbook is the perfect book for every health conscious animal lover. It is the surest way to find the right balance in your diet as you pursue your inner voice for treating animals ethically.
There?s also a Free Gift with this book!
 It?s a monthly diet plan so that you would always get the right guidance on your vegan diet.
About the author
Ray Harper has worked dedicatedly to bring to you the healthiest and easiest vegan food recipes. Through his research, dedication, zeal, and love for animals Ray has poured in all his knowledge into this book which has turned out to be a unique vegan food guide book. Ray Harper has spent countless hours working on this book which proves the point that you don?t necessarily have to eat animal products for the right nutrition or taste. A well-balanced vegan diet plan is just as efficient.