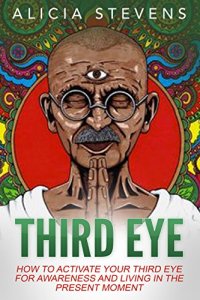 Free on 5th - 9th Dec 15



or borrow free on Kindle Unlimited.
No reviews yet.
Open Your Third Eye and Slow Down Life

*FREE ON KINDLE UNLIMITED*
Discover How to Awaken Your Third Eye and Activate Your Pineal Gland
Special launch price of $0.99. Regularly priced

at $5.99.

The Inner Workings of The Third Eye
Discover how the third eye works and the different psychic effects and potentials which may be acquired upon activation of the third eye. This will give you the opportunity to decide on whether to pursue the awakening process as this is an irreversible one.

The book also explains the origin or the discovery of the third eye's potential including its relevance to the different chakras or points of consciousness. It also emphasizes the role of the brain since third eye awakening mostly involves the manipulation of thoughts and staying focused on the now.
Get Away From The Chaos of The Past And The Future
This book also contains tips on how to properly start with the meditation exercises by starting with small and easy steps to more advanced ones. It provides clear instructions of popular third eye awakening exercises. In the later chapter, it will also include other meditation techniques such as the third eye meditation and clairvoyance meditation.

Get away from the chaos of the past, present, and the future.This book is for people who want greater awareness and those who want to live in the moment.
Benefits of Opening Your Third Eye
Life Transforming Intuitive WisdomLetting Go Of Negative ThinkingDiscovering of New PassionsDiscovering More Meaning In LifeHigher Levels of Energy
A Small Preview…
What Is the Third Eye?The Benefits of An Open Third EyeStarting a Meditation ExerciseTechniques for Effective MeditationThird Eye Awakening ExerciseOther Meditation Exercises

Download your copy today!

Scroll up and download this book for a limited time discount of only

$0.99! Empty today of your stress, fear, anger, and pressure!
Tags: Third Eye, Pineal Gland, Third Eye Chakra, Pineal Gland Activation