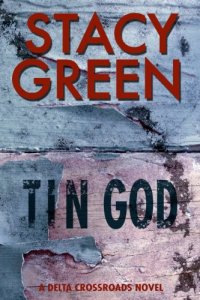 For fans of Lisa Gardner, Allison Brennan, and Catherine Coulter!
"Stacy Green has written an emotionally charged, thought-provoking and stunning mystery/suspense that will capture and hold you hostage until the last page is read." –The Kindle Book Review 
The truth can be as deadly as any weapon.
Jaymee Ballard trusted only one person in Roselea, Mississippi with the secret of her lost daughter. When that person is brutally murdered, it leaves her with heartbreak and a slew of unanswered questions. The eerie similarity to a murder of one of Jaymee's close friends years ago causes her to realize her past has come back to haunt her and may cost her own life.
Years of deception and abuse leave Jaymee with few options and fewer allies. She turns to the widower of her friend–a man struggling with his own demons–to help her find her daughter and identify the killer before he strikes again.
Before all evidence, the truth–and Jaymee's daughter–are lost.
TIN GOD is a romantic thriller set in a small town. Filled with suspense and featuring a strong female protagonist, this mystery leaves the reader wanting more.