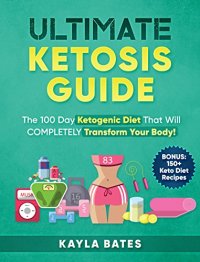 Free on 31st Aug 18 - 1st Sep 18



or borrow free on Kindle Unlimited.
No reviews yet.
The Ketosis Diet is The MOST Effective Way to Blast Fat FAST – This 100 Day Guide Will Get You Started With Everything You Need to Do For Maximum Weight Loss!
FREE BONUS INCLUDED: If you buy this book, you will get a FREE DOWNLOAD of a best selling book from Kayla Bates, The Ultimate Guide to Healthy Eating & Losing Weight (Without Starving Yourself)!
From the best-selling author, Kayla Bates, comes Ultimate Ketosis Guide: The 100 Day Ketogenic Diet That Will COMPLETELY Transform Your Body! (BONUS: 150+ Keto Diet Recipes). This book will help you get started with the Ketogenic Diet to effectively induce ketosis for maximum fat loss!
Please note: This book is a boxset containing a combination of the following two books by Kayla Bates, Ketosis: Learn How You Can COMPLETELY Transform Your Body with the Ketogenic Diet and Keto Cookbook: 160 Recipes That QUICKLY Put Your Body into Fat-Burning Ketosis Mode! (which you can find by searching for it in the Amazon search bar).
If you have been trying to lose weight for too long without any success…
If you just want to lose weight fast and finally get your dream body…
Or if you just want to feel happy, healthy & energized all day…
THEN THIS BOOK IS FOR YOU!
You will learn how to use the ketogenic diet to effectively induce ketosis. This boosts your body's ability to burn fat as energy, hence boosting weight loss and increasing your overall health.
Inside this book, you will find a comprehensive guide to your first 100 days on the ketosis diet and how you can implement it into your life for fast weight loss and maximum health gain, including reduced cholesterol, lower blood sugar, and better sleep.
If you successfully implement this guide, you will…
o Start seeing weight loss results within the first week
o Begin waking up earlier with more energy and happiness
o Improve your metabolic rate giving you long-term weight loss success
o Start losing weight much easier and be motivated to eat healthy and workout
o Feel healthy and start your day refreshed as soon as you wake up!
Tags: ketosis, ketosis diet, ketosis cookbook, ketogenic diet, ketogenic recipes, ketogenic diet recipes, ketosis diet plan