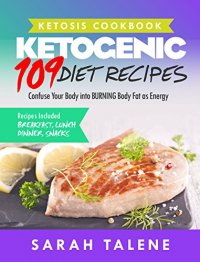 Free on 31st Aug 18 - 1st Sep 18



or borrow free on Kindle Unlimited.
No reviews yet.
The #1 Cookbook to Induce Ketosis – Start Shedding SERIOUS Weight On The Ketosis Diet! Get It TODAY!
FREE BONUS INCLUDED: If you download this book, you will get a FREE DOWNLOAD of a best selling book from Sarah Talene, #1 Weight Loss Guide: The ONLY Book Your Will Need to Read to Lose Weight FOREVER!
From the best selling writer, Sarah Talene, comes Ketosis Cookbook: 109 Ketogenic Diet Recipes That Confuse Your Body into BURNING Body Fat as Energy (Breakfast, Lunch, Dinner & Snack Recipes Included). This book is the only cookbook you need if you're on the ketogenic diet. The recipes and foods were specially picked for serious fast weight loss!
If you're trying to lose weight but not sure what you can and can't eat…
If you are sick of seeing no results and want to lose massive amounts of weight on the ketogenic diet…
Or if you just want to eat the right foods so you can tone up and achieve your "dream body" once and for all…
THEN THIS BOOK IS FOR YOU!
This book provides you with 109 delicious and tasty ketogenic diet recipes that will help your body move into ketosis state faster than normal!
Included are breakfast, lunch, dinner AND delicious snack recipes. Are you ready to look slimmer, sexier and feel healthier than you have in years? Then grab your cookbook today and start making food that will transform your body forever!
If you make and eat the foods in this cookbook, you will…
o Get your body into a ketosis state faster than normal, burning fat immediately
o Improve your body's overall metabolic rate so you blast fat all day long
o Enjoy eating whilst on the ketogenic diet – these foods are healthy and tasty
o Spend less time in the kitchen than ever before, but still have even better meals!
Tags: ketosis cookbook, ketosis, ketosis diet, ketosis diet cookbook, ketosis ketogenic diet, ketosis guide, ketogenic cookbook