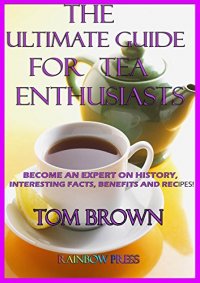 Free on 27th Jun 16 - 1st Jul 16



or borrow free on Kindle Unlimited.
No reviews yet.
Learn Everything You Need to Learn About Tea.
There are a lot of things you need to know about tea. But "Where Do I Start?" you say? "Ultimate Guide For Tea Enthusiasts" is the ultimate guide to everything you need to know about this healthy and tasty beverage.
-Do you want to read about tea but don't know where to start?
-Do you already know about tea but want to learn the fun stuff about it?
-Or do you know nothing about tea but interested in learning everything about it?
What are you waiting for? Brew yourself a tea, grab a cup full of it and start reading! After finishing it without getting bored, we guarantee you will be satisfied beyond what you expected.
This book covers all aspects about the tea without boring you to death. The treasures you are going to learn from this book are:
-History and the origins of the TEA.
-TEA and cultures it created.
-Story and culture of tea in various countries.
-Major tea types and their benefits.
-Unconventional usage of tea leaves and tea bags.
-30 delicious tea recipes and fascinating tips.
-Interesting facts about tea that will surprise you. (Guaranteed).
-General tea consumption on Earth by countries.
You are going to find the answers of:
-How did tea become popular in UK, USA, China, Japan, India and other countries?
-Which teas you should drink on a given condition?
-How many cups of tea I can drink in a day? Does it vary according to the type of tea?
-How can I brew tastier tea?
-How different cultures around the world consume tea?
-What is the relation in between furniture and tea bags?
We, as a qualified team around the world, gathered together to present you this book. Our aim is to draw more people to the glorious world of tea. All the information you need about tea is in this book. . The more you read this book, the more you are going to appreciate your cup of tea!

Enjoy!