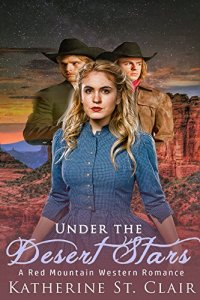 This book will be Free on 11th - 13th Aug 22
Set a Reminder:
Google Calender - Yahoo Calender - Live Calender
---
A Sweet , Clean Christian Western Historical Romance story set in the Arizona desert foothills of Red Mountain at the end of the 1800s that will touch your heart!
Sarah has never known any life but one in the Arizona desert, where she has grown up with her friends Jesse and Gerrard. They have been more or less equals, but things are beginning to change?
The friends are growing up and starting to notice each other in new ways, and it?s complicating the easy friendship they once had. The boys quarrel frequently now, and it?s a mystery to Sarah.
Anyway, she has enough to do just trying to sort out her own feelings. Her father is a pastor, and his teachings figure heavily in Sarah?s thinking, but she?s learning that she does not always agree with him. This comes to the fore when he makes plans for her future that she just can?t make peace with.
She often turns to the stars in the wide night sky for solace, and this is never truer than when she is trying to tame her heart to do her father?s bidding, as she knows good Christian daughters must. But the weight of betrayal, the threat of a shattering loss, and a heart as wild as those desert stars combine, and Sarah must choose.
Will she bow her head, and her heart, and do as she is bid? Is she strong enough to weather the journey ahead? Can she come to understand God?s plan for her?
Is her father?s love strong enough to withstand the choices she must make?
Read on your favorite devices such as Kindle, iPhone, iPad, Android cellular phone, tablet, laptop, or computer with Amazon's free reading Kindle App.
FREE bonus book included. Grab your copy!
To start reading now, scroll back up and click the BUY NOW button at the top right side of this page for an immediate download!