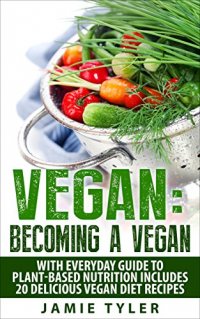 Are You Curious About Veganism? Do You Wonder How Is It Like to be On a Vegan Diet?
This Book Is A Great Beginner Guide For Vegans and Includes 20 Delicious Vegan Recipes
"Becoming a Vegan With Everyday Guide To Plant-Based Nutrition: Includes 20 Delicious Vegan Diet Recipes."was written with the newly converted vegans in mind.
Congratulations for choosing to go for a vegan lifestyle! You just took the first step to a healthier, more principled, more ethical way of life. Whatever your reasons are for embracing veganism, you will undoubtedly find out soon enough that you made the right choice.
The more challenging part, however, is in staying vegan. Veganism is a way of life which only a few have chosen to take. Although vegan followers are growing exponentially, the fact remains: too many people have not been converted to veganism and, consequently, almost every choice available is a non-vegan choice. This glaring fact makes veganism difficult to imbibe in your daily lifestyle.
In general, vegan choices are limited and, more often than not, difficult to identify and even harder to find.
But, that should not stop you or discourage you from loving the vegan lifestyle. Choices are available but learning about these requires you to exert extra effort to research and to learn vegan alternatives. Once you get used to your new lifestyle, everything about it becomes easy to navigate.
Stand up for what you believe in. Stay vegan with the help of a few, simple tips (and 20 yummy vegan recipes) that will make veganism easy for you to live by.
In this book you'll learn:
Understanding veganism

Learn the numerous benefits of becoming a vegan

Learn about veganism relationship with animal rights and environmental stability

Becoming a vegan; planning your vegan diet and understanding nutrition

Embracing vegan lifestyle

Listen to your body

Restocking your kitchen and cooking vegan

20 Delicious vegan recipes to get you going
Download your copy today!