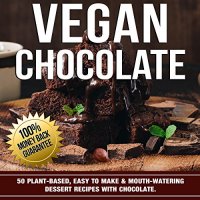 Free on 22nd - 26th Apr 18



or borrow free on Kindle Unlimited.
No reviews yet.
There's Always Room For Chocolate!
Let's think about this…why is chocolate unhealthy again? Why shouldn't you be eating it? Well, it's all that sugar, milk and eggs, right? What if we told you there is a way to make your favorite chocolate recipes in their healthy, vegan version but still retain all the unique taste and texture?
That's right, you do not have to sacrifice any of your old eating habits now that you are a part of the vegan community. If anything, you can UPGRADE your recipes and move towards a healthier lifestyle without settling for poor-tasting food choices!

In this book, you will find complete, easy to prepare and plant-based recipes for most of the chocolate desserts you've grown to love as a non-vegan, including but not limited to brownies, chocolate cakes, chocolate bars, cheesescakes, desserts with fruits, pudding, ice-cream, cookies and smoothies!
But what if you're worried about excess consumption of sugar? Aren't vegan chocolate desserts still a bit on the unhealthy side? Well, every process food can be unhealthy, which is why we've taken the extra time and provided a whole section on HEALTHY, plant-based (and a few RAW) chocolate dessert recipes that will blow your mind. Including only 100% healthy ingredients and without sacrificing taste or texture, the healthy dessert section of this book is for those who are on a specific diet but still want to taste the pleasure of chocolate!
Next time your friends tell you that being vegan is hard, show them this recipe book. In fact, why don't you bake a cake for them next time they visit? We can guarantee you that they will not be able to tell the difference and neither will you! In fact, the very mission of this recipe collection is to provide you with healthy dessert options that will help you improve your health without missing your favorite chocolate recipes anymore!
So what are you still waiting for? Pick up this book and remember…There's ALWAYS room for dessert! You can read it for free with Kindle Unlimited. 100% money back guarantee