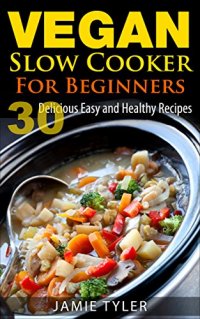 Free on 28th Jul 15 - 1st Aug 15


No reviews yet.
Vegan Cookbook With 30 Amazing Recipes
Vegan Slow Cooking: Vegan Recipes for Vegan Slow Cooker Breakfast, Lunch, Dinner, Desserts, Appetizers and Snacks
Being a Vegan is a lifestyle choice that you have already made, and the benefits of the same can be seen in your improved health and overall vitality. There is a misconception among people that Vegans are not spoilt for choice when it comes to eating like non vegetarians. But that is just that, a misconception.
There is so much you can do with the food choices available to you, without harming another living being. Like they say, variety is the spice of life, so I am now going to offer you different Vegan recipes, not something that is cooked in a jiff, but something that is cooked over a slow cooker. Needless to say, you already know that cooking your meals over a slow flame makes its much tastier and also retains the nutrition of your food.
So in the upcoming chapters, we are going to take a look at some of the tastiest and healthiest Vegan recipes that are cooked in a slow cooker. In this eBook, I give you 30 of the best vegan slow cooker recipes that you can try and give to yourself and your family, a healthier lifestyle.
Though these may take hours to cook, the prep time is more or less about 20 minutes for most of the recipes. The recipes are chosen to fit different meals like breakfast, lunch, dinner, snacks, appetizers and desserts. This ensures that you have a new recipe for every meal of the day, which brings in the much needed variety on the table.
In this book you'll learn:
Benefits of Vegan Diet

Advantages of Slow Cooking

Vegan Slow Cooker Breakfast Recipes

Vegan Slow Cooker Lunch Recipes

Vegan Slow Cooker Dinner Recipes

Vegan Slow Cooker Snack Recipes

Vegan Slow Cooker Appetizers

Vegan Slow Cooker Dessert Recipes
Get Your Copy Now: Scroll Up and Click on Buy Now Button!