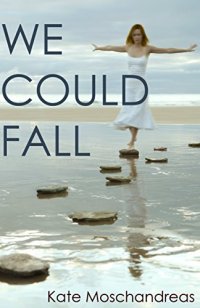 Free on 3rd Aug 15


No reviews yet.
This book appears to be unavailable on Amazon.co.uk at the current time. If this is incorrect, please let us know here
"Finally, a smart literary love story!"
Emmy is a 42-year old psychotherapist. Married. A mom. WE COULD FALL is the story of one pivotal month in her life. A month in which she learns that her husband doesn't want the divorce Emmy thought they'd agreed to and that the famous actor who is her therapy client is in love with her. Surprisingly, she may be in love with him too. Yet this is not a romance novel in the traditional sense.
"Though the story line follows Emmy's relationship with these two men, throughout the novel, author Kate Moschandreas is as concerned with portraying Emmy's inner life as she is with the romantic details. On one level, the story's tension comes from the choice Emmy must make regarding her marriage, but on another, more satisfying level, it is about the heroine's choice between the life she is leading and the one she thinks she wants to have for herself."
˃˃˃"An Extraordinary Book! Intense and insightful and kind of blew my mind." — Bestselling author, Natasha Boyd
˃˃˃ "Complex, beautiful" — ReadersWriters Journal
"The creation of three-dimensional, complex characters who remain real in the reader's mind long after the book is finished is one of the more mysterious aspects of writing fiction. Author Cory Doctorow has said, about creating his characters, "they become people, and writing them feels more like you're recounting something that happened than something you're making up." Moschandreas is a first-time author who, in her biography, relates the story of a snippet of dialogue that popped into her head one day and eventually morphed into an entire story and then a novel, almost as though the characters already existed and just needed their story told. That is how the characters here feel "" engaging, relatable and real. We Could Fall shows Kate Moschandreas' remarkable ability to tell the stories of her characters' complex emotions imaginatively and beautifully." — ReadersWriters Journal
˃˃˃ "Best of Summer" — Indie Reader
"By creating flawed, deeply human characters, Moschandreas leads the reader to invest fully in their journey. WE COULD FALL is a beautiful portrait of a woman at a crossroads in her life, and the rewarding human connection she finds along the path." Indie Reader
Start reading the "smart woman's beach read" today!