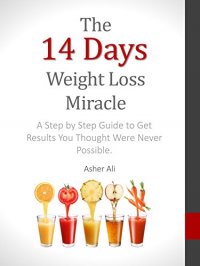 Free on 28th Jan 17 - 1st Feb 17



or borrow free on Kindle Unlimited.
No reviews yet.
The 14 Days Weight Loss Miracle
Rest assured that the strategies outlined in this book have been tried and tested by myself personally. Not only this, you will see great results in just 14 days. Most programs take much longer than this, resulting in loss of interest or difficulty maintaining motivation to carry on. People simply quit when this happens.
I've carefully structured this book to bring you the fastest results possible using the most effective method. This really works when it comes down to reducing your waistline, losing your weight and toning your body. However, this commitment does come with a caveat, it's not all that easy. You will be tested physically on this program. But the good news is that the duration of this program is much shorter than others. All it takes is disciplining yourself for a period of 14 days, that's only 2 weeks.
A brief overview of what to expect in this book:
o Motivation – in this section I'll explain the mechanics behind our motivation triggers and provide you with some techniques and encouragement to stay motivated during the 14 days period.
o Your daily tracking mechanism – this will help you stay on track for the next 14 days. It provides handy tools to keep you on track and help assess your progress each step of the way.
o The diet plan – as difficult as the work "diet" sounds, I've made it simple and easy to follow for you. Basic diet principles you can follow and foods that you can enjoy over the next 14 days will make sure you achieve brilliant results.
o The workout plan – I've prepare this based upon techniques that helped many achieve results. If you follow the same principles you'll get great results. I've also explained the reason and science behind this quality workout plan. But as simple as the workout plan sounds it will push your body to burn the most amount of calories in the shortest period of time.
o Delicious Smoothie Recipes – finally I've added an extra bonus, providing you with some delicious low calorie smoothies. You can incorporate these in your daily routine to make the 14 day journey towards weight loss much more fun and enjoyable.
Take action now and get this Kindle book for 0.99 cents